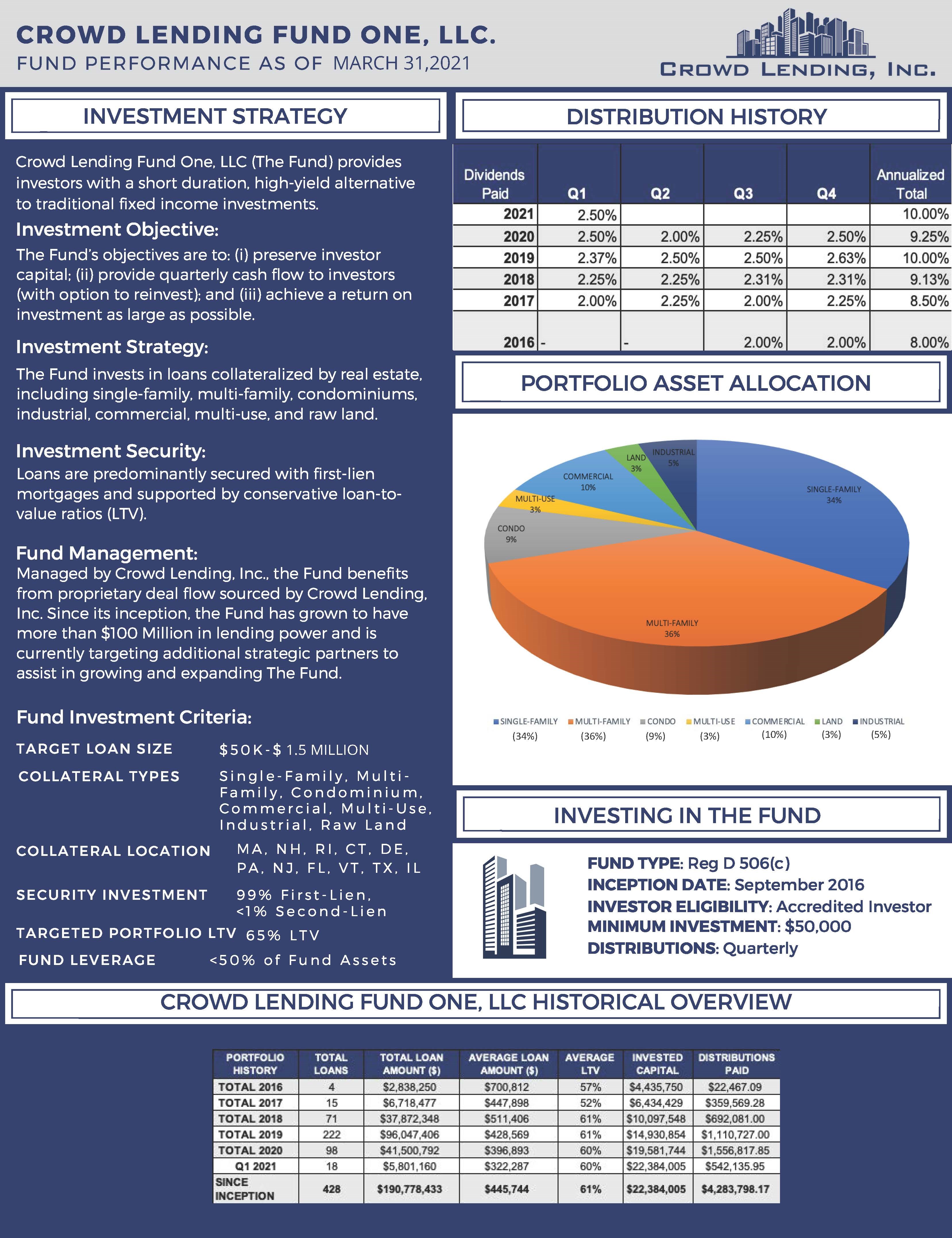 Quarterly Reports – What are they and why are they important?
Accompanied by graphs and spreadsheets for visual representation, the quarterly report is a one-page summary of The Fund's progression and general performance.

Even if you plan to leave your investments untouched, this document is still very important to review and understand. Your quarterly report allows you to follow trends in distributions - leaving you with the option to invest, and in turn generate, more income as The Fund's performance grows.

Investment Strategy

The Fund provides investors with a short-duration, high-yield alternative to traditional fixed-income investments. The Fund invests in loans in both residential and commercial real estate that are predominantly secured by first-lien mortgages.

Why is this fact important? A first-lien loan is paid before all other liens, offsetting the risk of the loan and ensuring the lender will be able to recoup their money in any scenario. Through these multiple layers of protection and a diversified portfolio, we have successfully outperformed our targeted 8% annualized distributions since 2016.

Distribution History

A quick look at this chart demonstrates what The Fund has distributed to our investors both quarterly and annually since inception. Each quarter, investors have the option to collect or reinvest their dividends. This chart offers investors an opportunity to gauge The Fund's performance and decide which option aligns best with their financial goals.

Portfolio Asset Allocation

This section provides a visualization of our diversified portfolio and percentages of our asset allocation.

Crowd Lending Fund One, LLC Historical Overview

Sorted by year and quarter, this chart provides the total number of loans, total loan amount ($), average loan amount ($), average LTV (Loan to Value ratio), invested capital (in The Fund), and the distributions paid (how much we have paid our investors) since inception.

The quarterly report is a direct look into The Fund with the convenience of a shortened summary and visual representations. Our company has continued to grow, even through the Pandemic. That said, we believe in full transparency and let the numbers speak for themself. If you have any questions on this fact sheet or a potential investment in The Fund, let's talk!